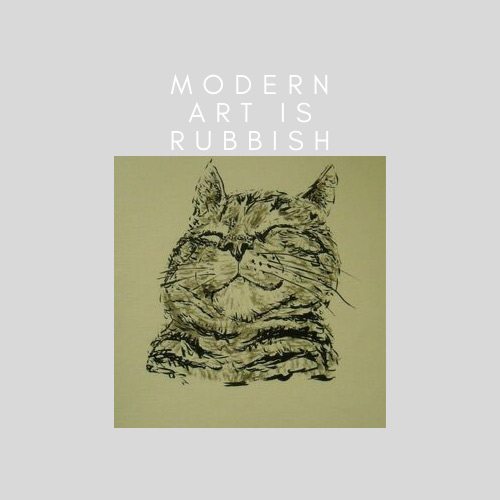 Podcast: Play in new window | Download
Subscribe: Apple Podcasts | RSS
In this Art News episode we talk of Cats on the Underground, Private emails made public and stolen golden toilets!
Cats instead of Ads?
All the adverts in a tube train station in Clapham tube station in London have been replaced with pictures of cats.
All adverts such as the ones you see up the escalator have been replaced with pictures of cats. This creative project is known as "The Citizens Advertising Takeover Service" (CATS). The creative collective behind this project is called Glimpse. In a statement from Glimpse, they said about the work "We hope it will help people think a bit differently about the world around them and get inspired to change things for the better."
The cats featured are all rescue cats from the Cats Protection League and Battersea Dogs and Cats home.
You can learn more about the Glimpse project and other works here
Email Art
As part of and work exhibited at the Venice Biennale Kenneth Goldsmith printed the 62,000 pages of Hillary Clinton's emails for his work art exhibition titled "HILLARY: The Hillary Clinton Emails"

Visitors were surprised to see Hillary Clinton, who turned up to read the emails for an hour, from reams of printed documents that sat on a desk that is a replica of one in the oval office.
The emails were hacked by Wikileaks and were published on the web. This leak was used by the Trump campaign in 2016 as a way to smear Hillary as she was running against him. The issue being, she had used on occasions a private email account for affairs of state.
The curators of the exhibition said about the work that "the pile of papers is rather unimpressive, rebutting Trump's efforts to make them monumental." The work also questions issues of transparency, privacy, propaganda and democracy in the politics of the west.

Toilet Taken
A work by the artist Maurizio Cattelan has been stolen. It is an 18 Carat gold toilet and is called America created in 2018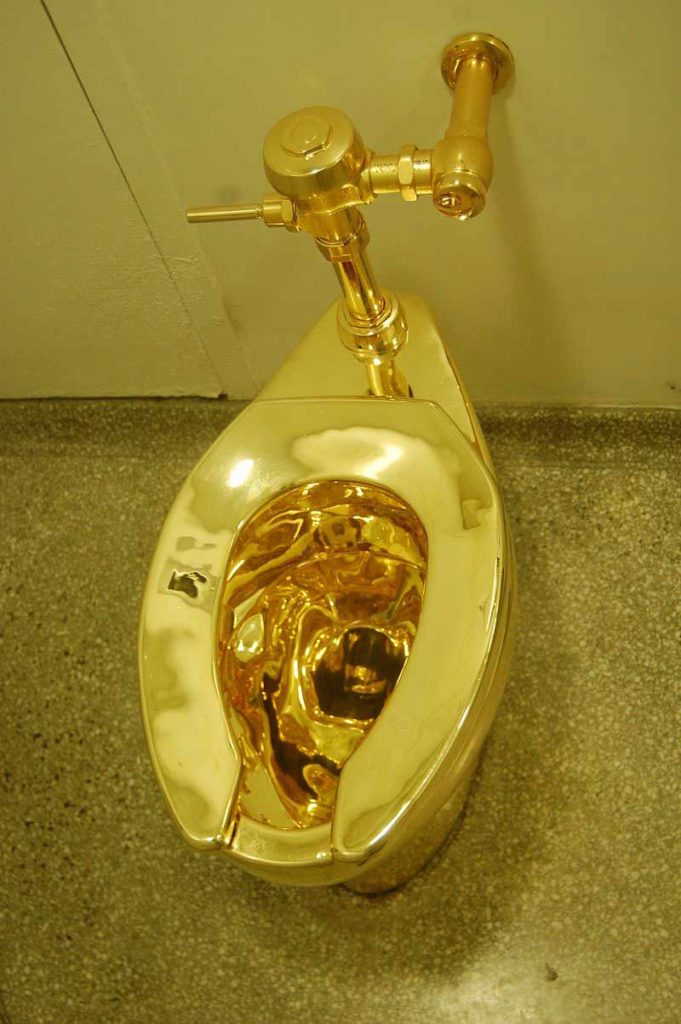 It was stolen from a stately home Blenheim Palace, which is the birthplace of Winston Churchill in the UK. The burglary caused significant damage and flooding, this was because as the Toilet was plumbed in and fully functioning. Its value is approx $6million dollars $4.8 million pounds
In January last year, the work was offered to the White House for loan by the Guggenheim instead of the Van Gogh that was requested.
Many people questioned if the robbery was, in fact, a Cattelan Style stunt.
Maurizio Cattelan was quoted as saying "I promise I have an alibi for the night."
America is a work we talked about in our Maurizio Cattelan special last year, which you can listen to here.
Please follow and like us: