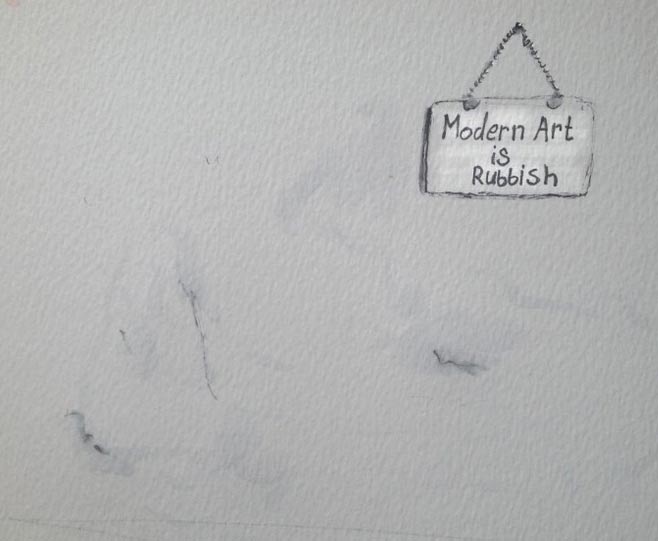 Podcast: Play in new window | Download
Subscribe: RSS
Maurizio Cattelan
In this podcast we will be focusing on Maurizio Cattelan, the "Houdini" of the Art World, always escaping and pulling off stunts, he is a prankster whose works are funny and dark, he is a very difficult man to pin down.
Brief Biography
Cattelan was born on 21 September 1960 in Padua Italy. He was born into a poor family, his mother was ill a lot and he had little schooling. In his early 20s, he drifted from job to job scraping a living. His first real creative job was making wooden furniture in Forlì, a city in Emilia-Romagna, northern Italy.
1989 Torno Subito "Be Back Soon"
In 1989 he was given the opportunity of a solo exhibition. But he did not have a good idea as to what to show. So, he simply hung up a little sign on the gallery, which read "Torno Subito" and locked the door. when guests turned up for the viewing, they were just confronted with the sign and no other information. This can not have been good PR for getting people to attend future events!
1990 "Stratagie" Flash Magazine covers
Possibly impatient to get known in the art world. He decided to get himself on the cover of the highly regarded Flash Art magazine. He bought several copies,  arranged them in a pyramid, like the one you might create with playing cards. He then photographed this sculpture and used the photo to create fake covers, that were glued on to the magazines.  He took them back to the shops and placed them back on the racks.
Extra bonus info: There are 3 actual magazine sculptures still in circulation one sold for $84,000 in 2013.
1992 Oblomov Foundation scholarship
In 1992 Cattelan decided to start a foundation offering art scholarships, to any artists who would not work for the year, his idea was "Art as a form of laziness". He named the Foundation after a character in a Russian novel by Ivan Goncharov. Oblomov was a lazy 19th-century character who does nothing but contemplate life.
He raised almost 20 million liras but was not successful in finding anyone who would take up the opportunity not to work for a year. In the end, he found that he was the only person for the job. He used the money to finance a trip to New York.
Venice Biennale
Still trying to find recognition in America, he met and becomes friends a fellow Italian, who was involved in the staging of Venice Biennale. The Venice Biennale is a famous Art Expo in which artists are invited from all over the world to show their work. Cattelan was offered a chance to show his work there.
1993 Lavorare è un brutto mestiere (Working is a bad job)
For the 1993 Biennale, Cattelan hired a billboard company to install a large advert in the space, in this case, it was for perfume. This was the only work he showed at the exhibition.
1996 Another F*!king READYMADE
He was desperate for something to exhibit for a show in Amsterdam. He had very limited time, so, as "a survival tactic", he snuck into a local exhibition and stole the artist Paul de Reus' show and some office equipment. He then put them on display still inside their cardboard packaging boxes. The Gallerie Bloom called the police, but in the end, Catalan was given permission to show the work for a bit…
Paul de Reus a really interesting artist who makes wooden slightly surreal sculptures, like a man with a cloud on his back, or a man with a big globe on his head. If you like Maurizio's sculpture you would appreciate this artist's work too…. (His link is in the links section)
Gallery humiliations
Catalan really started to make a name for himself with a series of what we think are like "Gallery Humiliations"
1993 Tarzan & Jane
He had the owners of Galleria Raucci in Naples, dress up in lion costumes for the entire run of his solo exhibition.
1995 Errotin, le Vvrai Lapin (A, B, C) (Errotin the True Rabbit)
For this piece, He got his gallerist friend Emmanuel Pereton to dress in a pink rabbit suit that looked a bit like a penis. This was because he was a bit of womaniser and liked the good life…
1999 A Perfect Day
One time he taped the rather portly Massimo De Carlo to a wall. It looked like a "duct tape crucifixion". Massimo actually had to be taken down after a couple of hours because he was suffering from exhaustion and lack of oxygen.
These pieces they cut out the middleman, making the gallerist, the subject of the work. They were performed at a time when the gallerist was the powerful figure in art, this challenged the normal relationship between the gallerist and artist.
Self-portraits
" I am always serious. I went into art looking for freedom and I became a slave to my work. It gets tedious after a while, being chained down, even if the parties are good. More than anything, I just want to escape." Said Cattelan in an interview with Chris Willey in Annual Art Magazine
Cattelan's self-portrait  resin sculptures are like caricatures
Untitled 2002
….
This is a figure of Maurizio Cattelan who is peeping through a hole that has been cut in the floor the gallery space, it looks like it is breaking into the museum. This piece shows the way the artist outsider has broken into the art world.
1999 Mini-Me
A small resin sculpture of Cattelan that sitting high up on a bookshelf, looking down on the viewer.
2000 La Rivoluzione Siamo Noi (2000 We are the revolution)
A 1972 Piece by Joseph Beuys had the same name. It is a sculpture of Cattelan being hung on a clothes-rail he is dressed in a felt suit like the artist used to wear.
Beuys had said that 'Everyone is an artist', as humans are creative by nature. Catalan turned this notion on its head,  "I am not an artist. I really don't consider myself an artist. I make art, but it's a job." He once said in an interview with Artspace
1991 A Sunday in Rivara
Cattelan, always disappearing; this piece is just simply sheets tied to together so someone can make their escape out of the window…..
Cattelan has taken this idea of escape so far in fact, that he has hired someone to replace himself, Massimiliano Gioni. Gioni will frequently give interviews and do lectures as Maurizio.
1999 The Sixth International Caribbean Biennale Nov. 10-17,
The 5 previous Biennale were not successful. Maurizio and Jens Hoffmann ( a Costa Rican gallery curator) were given the opportunity to do the 6th. To promote the event they took out the required magazine ads, press releases, institutional sponsorship, and hired a  roster of star-artists. The one difference with this art event was that there was no art on show. Attendees just spent the time enjoying the sea, drinking, listening to music and partying. Hoffmann said that they didn't want to be "polluting our visual world with more installations, paintings and artworks".
Sculpture works….
Maurizio has created many sculpture works many not without controversy.
2001 Him
A model of a kneeling Hitler in a tweed jacket, the sculpture is normally placed facing a wall, so at first, you just see a little child-sized kneeling figure. Only when you get up close do you see that it is little resin, Hitler. Quoted on christies.com talking about the piece. Maurizio said "Hitler is everywhere haunting the spectre of history; and yet he is unmentionable, irreproducible, wrapped in a blanket of silence. I'm not trying to offend anyone."
2007 Ave Maria
Three polyurethane arms extended from the wall in a fascist salute
1999 La Nona Ora (The Ninth Hour)
Jesus was on the cross and in the ninth hour cried out My God, my God, why hast thou forsaken me? » (Matthew 27:46). La Nona Ora is a life-sized effigy of Pope John Paul II struck down by a meteorite. When it was displayed in Warsaw, two Polish Mp's tried to remove the meteorite and stand the figure upright. They also tried to get the gallery director dismissed. However, some priests had praised the work saying that it was an allegory of the burden that a pope must carry.
2008 Untitled  (Three boys hanging in a tree)
Untitled is a sculpture of three boys hanging in a tree that was situated in a Milan square.
A man called Franco Di Benedetto was so upset by the work, that he took action. He climbed up the tree and cut down two sculptures,  then fell several metres and was taken to hospital. The third boy was cut down by a fireman. "Certain images and objects are even more powerful when they disappear." Cattelan was reported saying by the Metro newspaper
Various stuffed animal works
1994 Enter at Your Own Risk — Do Not Touch, Do Not Feed, No Smoking, No Photographs, No Dogs, Thank you
Before working exclusively with stuffed animals, He started out with a live one. This piece consisted of a donkey and a  chandelier. The donkey made so much noise the exhibition had to be closed early.
Not Afraid of Love 2000
This piece is an elephant with a sheet over it, there are holes for its eyes and space for its trunk to go through. It is like an Elephant pretending to be a ghost. A metaphor for the elephant in the room?
2011 All
What was amazing about the 2011/ 2012 exhibition piece "All" was that the Guggenheim suspended nearly all his major works from the ceiling of the museum. This was to coincide with his supposed retirement.
Recent Stuff
America 2016
President Trump's White House emailed the Guggenheim in New York City and asked to borrow would a Vincent Van Gogh painting, "Landscape with Snow,". The curator informed them that it was not available but they can have use of a working 18-karat gold toilet. The working gold toilet is called America and it is open to the public to use. Asked for quote Cattelan just said: "What's the point of our life? Everything seems absurd until we die and then it makes sense." Then he hung up.
Extra bonus info: Apparently, this March the toilet was "yarn bombed"  someone used premade gold crochet to cover the toilet.
Extra Bonus Info!
Here is some extra bonus info we found out, that was not included in the show….
2001 Hollywood
As part of the 2001 Venice Biennale. Cattelan flew out selected guests including rich collectors, critics and curators to Palermo in Italy. He then took them on a coach ride to a local dump for a champagne reception. There he had created a life-size replica of the Hollywood sign.
 Wheelchair on water
In this piece, Maurizio is trying to make it look as though a wheelchair is moving on water, in reference to a Biblical walking on water.
Paralympic athlete Edith Wolf-Hunkeler (Swiss former wheelchair racer) is the person in the wheelchair. It didn't go as well as expected at one point an assistant had to dive in to help.
Links
You can find most images (that are not listed below) and extra info on the website of the gallery Perrotin who represents Maurizio, it is a really interesting resource.
The Artist Paul de rues website
More info on the Venice Biennale
Annual Art Magazine Interview with Chris Willey
Picture of Mini-Me
Picture of  La Rivoluzione Siamo Noi ( We are the revolution)
Picture of All
Interesting Artspace interview
Interesting interview with Christie's on the "Nature of Evil" where he talks about the Hitler sculpture
Comment on Three Hanging Boys in the Metro Newspaper
Installation of All into the Guggenheim you can see pretty much all his works hanging here
Extra Bonus Info Links
A Journalist talks on Artnet about the Caribbean Biennale
Toilet Paper was founded in 2010 by Maurizio Cattelan and Pierpaolo Ferrari
Toilet Paper Magazine
Please follow and like us: