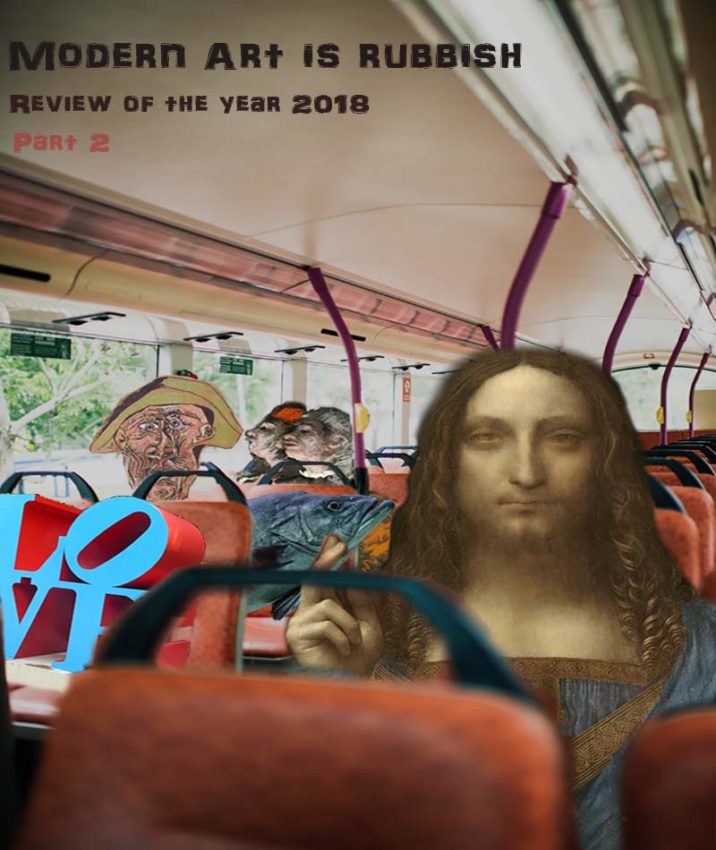 Podcast: Play in new window | Download
Subscribe: Apple Podcasts | Android | RSS
Review of the Year 2018 Part 2
This year in review is filled with, a planted Picasso, a delivered Degas, fire-starting fish, bidding battles and much more!
Davinci in the 2018 news
The Salvator Mundi a painting of Christ Mundi (Savior of the World) sold in Christies New York for over $450,0000 in 2017
According to a Daily Mail article, 2 Arab Princes and allies did not realise they were bidding against each other, and this may have been a reason for the high price.
Salvator Mundi needs some work
It was due to be unveiled in September but has not been seen! It has been restored quite a bit and now that the paint has been removed several streaky gaps can be seen. You can read more about it in this Guardian article
Now there have been doubts raised about its prominence, some have suggested it may be a school of DA Vinci. As the critic Jerry Saltz suggests in a Video he produced for Vice
Exploding Fish!
An Art by the South Korean artist Lee Bul has exploded. The work was called Majestic Splendor and was comprised of Sequin covered rotting fish. It spontaneously combusted whilst being withdrawn. You can find out more about this in this article from Frieze.com
A Stolen Degas was recovered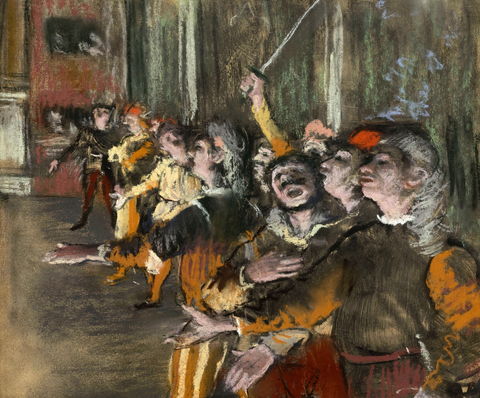 A painting by Edgar Degas's Les Choristes, ( The Chorus Singers) created in 1877, was stolen nine years ago in Marseilles.
Fake Stolen Picasso A story from November
A writer Ms Feticu believed that she had recovered a stolen Picasso called Tete d'alequin (Harlequins Head), but it looked to have been a prank. She received an anonymous letter. Instructing her to look for it in a forest in Romania. Where the work was buried and wrapped in plastic.
The 700,000-pound painting was part of haul stolen over 6 years ago from the Kunsthal museum Rotterdam in the Netherlands. It was theft that was undertaken by Romanian thieves, who burst in through the emergency exits and took seven paintings which included Picasso Matisse and Gauguin.
In 2013, 4 Romanians were convicted for the crime. But the artworks have yet to be recovered.
Ms Feticu handed the painting over to the Dutch authorities. After doing this she received an email. Stating that it was part of a performance by a couple of Directors collective known as Berlin. It was part of an art project about a dutch forger called Geert Jan Jansen called "True Copy"
Police were carrying out random checks on a motorway rest area just 20 miles east of Paris. It was located in a public buses' luggage hold
Botched Restoration
We love a botched restoration this one involves a 16th Century wooden carving that was housed in a church in Navarre, northern Spain
Requiring some restoration work, a priest instead of calling the local authorities, arranged for a local school teacher to restore it….
Looking at its before picture it is a wooden Carving of St George wearing a suit of armour on horseback battling a dragon
Post restoration it has now been covered in bright colours and the sculptures face is bright pink. It has been compared to a Disney character it has a hint of a child's play mobile toy.
Obituaries
Robert Indiana
Robert Indiana died in May. He was born in 1928 as in New Castle, Indiana. Indiana's most known work is comprised of a lot of iconic, simple, strong images, including stars numbers and short words like EAT or Hope. He created prints painting and sculptures
He was most famous for his series around the word Love, it is extremely recognisable. The word love being arranged in square shape where the L sites on top of the V and a leaning O sits on the E. You can see examples of his work here on his site.
Robert Morris
Was born February 9, 1931 – November 28, 2018
He was an American sculptor, conceptual artist and writer. He was really important in the Minimal art movements. He also produced performance land art and installation art and process art
Box with the Sound of Its Own Making 1961
Is a solid cube-shaped box. Inside is an audio device that plays a recording of the sounds of it being made sawing sanding noises etc……
Robert Morris
, Tate Gallery 1971;
Bodyspacemotionthings
, Tate Modern
In 1971 Morris was invited to do a retrospective at the Tate Gallery in London
He created an interactive space for the audience to engage directly with works. He filled the space with a series of works, these works I feel would have challenged the traditional sculptural space and people would have a new way that would experience the sculptures through their body. It was like an arty playground
Such wooden platforms that shifts moved and people had to balance on. A double ramp with ropes that you have to pull weights across.  An open wooden chimney-like structure which you had to inch your way up.
Although each installation had a photograph next to the work to show how to interact with the object. It seems the public decided to improvise. Injuries included one sprained finger, another torn leg muscle and fourteen reported cases of painful splinters.  People got over-excited as a result the works started to suffer damage making them even more dangerous. It was a first of it's kind exhibition.  It was supposed to be a 5 week run for the show it had to be closed down after just 7 days
You  can see the work here in this video
Another Robert Morris work Steamwork for Bellingham
Please follow and like us: