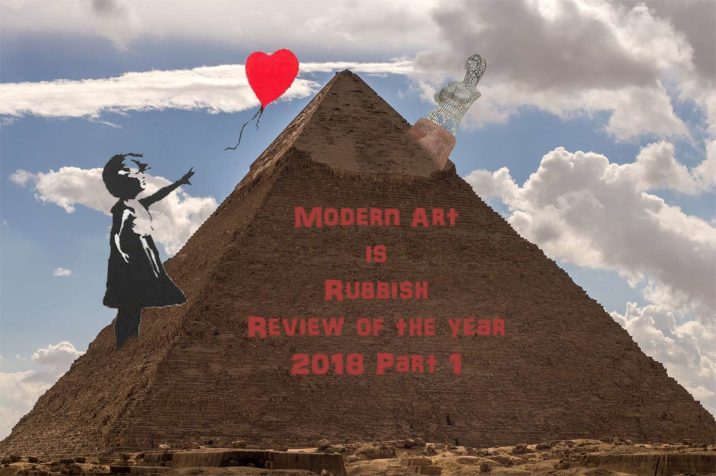 Podcast: Play in new window | Download
Subscribe: Apple Podcasts | Android | RSS
Review of the Year 2018 Part 1
Featuring Pyramid Sex, Vandalised Hot dog Sculpture, DNA Music Albums and more!
Should I shred my Banksy?
A Banksy canvas was shredded during an auction, as result, the work has become world-famous. As a result, its value has now been increased as much as 2 times.
According to an article in the Independent   A founder of myartbroker.com was approached by a potential customer, after they had apparently shredded the bottom of their limited edition of Girl With Balloon thinking it would increase its value.
Below is a video of Banksy video about the original Shredding
Pyramid sex
A Danish Photographer is wanted by Egyptian authorities after filming himself having simulated sex on top of the Great Pyramid in Giza
Andreas Hvid and an unbeknown woman sneaked in at night and avoided the security guards.
You can read more and see images in this Artnet article
An example of Andreas Hvid Rooftoping photo work
How he climbed the Pyramid
Massive Attack to Release a DNA Album version
Massive Attack is celebrating the 20th anniversary. By releasing a DNA version of their album. It will be sold inside a spray can.    You can read more about this in the Wired Article
Boy destroys sculpture
The parents of a young boy have been billed $132000 by an insurance company. After their son hugged and knocked over a sculpture causing irreparable damage. They with him at a community centre in Kansas for a wedding reception
The parents stated that there was no sign around it no casing, it also was a place where they regularly have sports activities like table tennis.
The sculpture was called Aphrodite de Kansas City and was  by Bill Lyon
A video of the Boy knocking over the Sculpture
Interview with the Mother on the subject.
Retna suspected of vandalism in an Art Gallery
The Artist Retna allegedly twice vandalised an art gallery show, where one of the works was Damien Hirst. It was suggested that this might have been because he did not get his work hanging alongside that of Hirst.
Retna (Left) Relaxing in front of one of his paintings.
Little Mer Sausage Vandalised
According to an article in Art News
The Little Mer-Sausage sculpture has been vandalised. It is large phallic-looking hot dog sculpture on a yellow domed base
Although it was in the middle of a pond. It looks like someone walked across the frozen water and gave it a big kick. Breaking the sausage off. The hot dog is the national dish of Iceland
Vandal Breaks Works of Animal Art at the Denver Art Museum
Security guards tackled  an 18-year-old Jake Siebenlist man after he began deliberately breaking works  on view in "Stampede."
Stampede as per the website shows "300 objects from the Denver Art Museum's collection to explore the presence of animals in art throughout centuries and across cultures."
Siebenlist purchased a ticket.  Walked into the exhibition and went on a vandalising spree and was seen by a witness causing damage by throwing sculptures across the room, pushing over a work making it shatter, he also tried to damage a couple of paintings that were protected by plastic glass. In all, he damaged at least 10 works.
You can see a link to the show here
Please follow and like us: