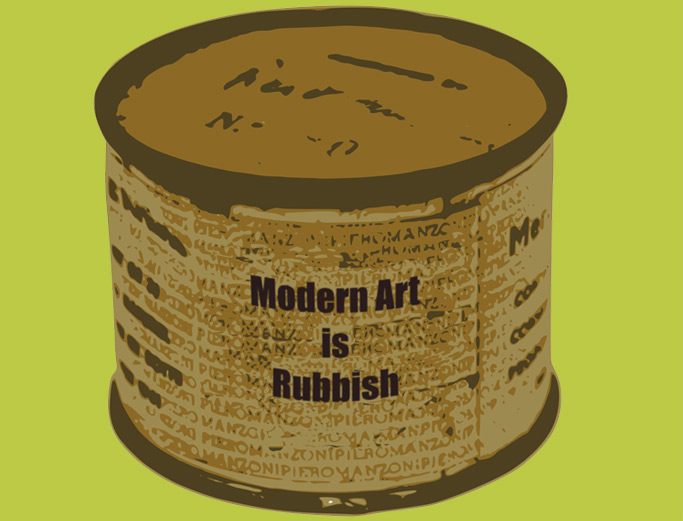 Podcast: Play in new window | Download
Subscribe: RSS
We profile the fun, controversial, trailblazing and Influential Italian Artist!
Brief Biog
Piero Manzoni was born in 1933 into an aristocratic family. His full name was Count Meroni Manzoni di Chiosca e Poggiolo. He is an artist that inspired many famous artists such as Gavin Turk, Marina Abramovich and Damien Hirst. He was a pioneering and fun humorous artist. He died in 1963 aged just 29.

Acromes
His earliest important works were called Acromes. They were works about the material, and surface of the work, they were objects in themselves. They had little to do with the artist creating a narrative through the work.. One technique he created was dipping canvas into a liquid white china clay, it was then left to dry to create a wrinkled surface. This would mean that he had very little influence over the final outcome. He created over works using materials such as cotton, felt, fibreglass and polystyrene.

Art and Balloons
Corpo D'aria 1959 – 1960
From 1959 – 1960 Manzoni produced a series of works called Corpo d'aria ("Body of Air"). They consisted of a mouthpiece, a tripod, a box and a deflated balloon 45 copies were made and sold at 30,000 lire each. If the purchaser wanted to get Manzoni to inflate the balloon for them they were charged by him an extra 200 lire per litre of air.
Fiato d'artista 1960 (Artist's breath)
Also Manzoni produced several works called the artist's breath in which a balloon was filled with his breath. Attached to the balloon was a piece of string and 2 lead seals. The works were very ephemeral. "When I blow up a balloon, I am breathing my soul into an object that becomes eternal," Manzoni said in 1960.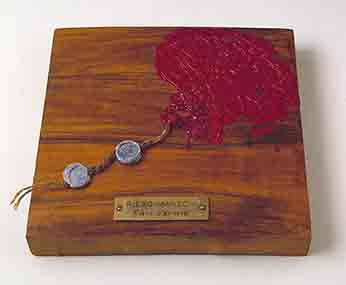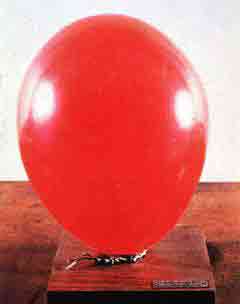 Film Star?
Manzoni was very good at self promoting and made humorous films to be shown before the main movie in cinemas. One showed him, producing a balloon portrait of a live model. Simply by blowing up a balloon.
Line works 1959
Manzoni printed a line on a long sheet of paper, this was then coiled up and placed inside a sealed container. A label on the outside guaranteed the date, the length and author of the work. There were many of these produced with different line lengths. They were sold under the condition they would never be opened. What was different about this work was that the artwork was no longer about the object, but instead about the idea and concept.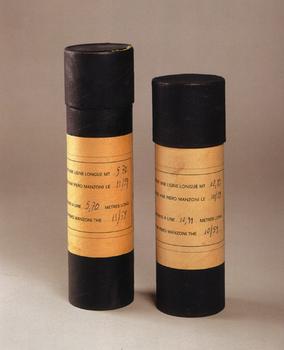 "Linea lunga 7.200 metri" Line 7200 Meters Long 1960
He also produced the longest line in the world as an art piece, it was on paper and was 7,200 meteres long. It was enclosed in a lead cylindrical container. He intended for a number of these to be placed in cities around the world, the total length of these works would stretch around the circumference of the Earth. Manzoni did state once that he had created a line of infinite length, but that it's container must be kept closed, as soon as it was opened the line would disappear.
Merde d'artiste 1961 (Artist's Sh**)
Wanting to create a work that was personal to the artist. Manzoni produced approximately 90 cans that stated on the label they contained his own excrement. The label "in Italian" read. Artist's Sh**/ Contents 30gr net/ Freshly preserved/ Produced and tinned/ May 1961. In 1962 he sold one of his cans in exchange for 30 grams of 18 carat gold. To give his poo an equivalent value. Continuing in a tradition started by Duchamp, being like an Alchemist changing the valueless into something valuable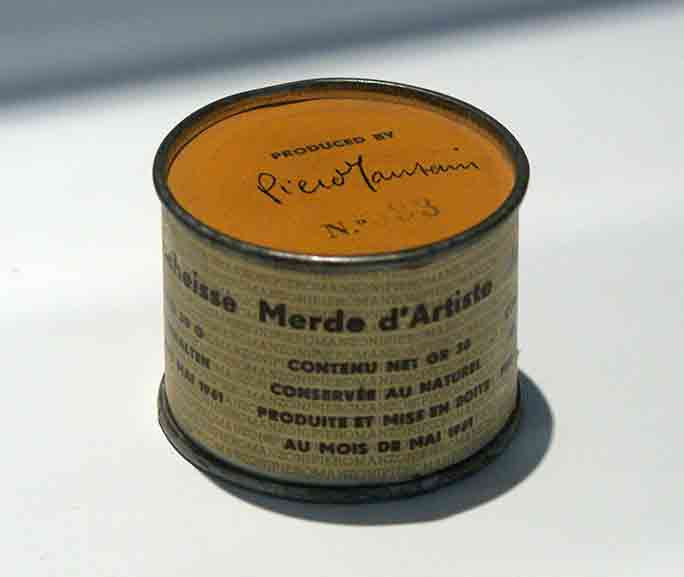 People and the world as art
To transform people into art Manzoni signed models and declared them to be art, and issued them with a certificate of authenticity.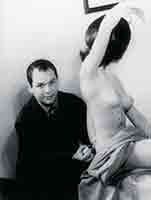 Socle du monde (Base of the World), 1961
This work was an upside down plinth which made the whole world a piece of art.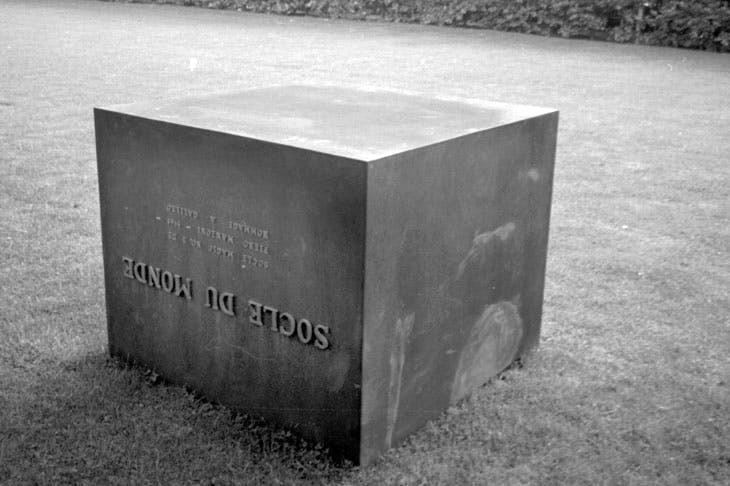 Extras
To learn more about Manzoni we recommend you check out the Manzoni Archive
Please follow and like us: