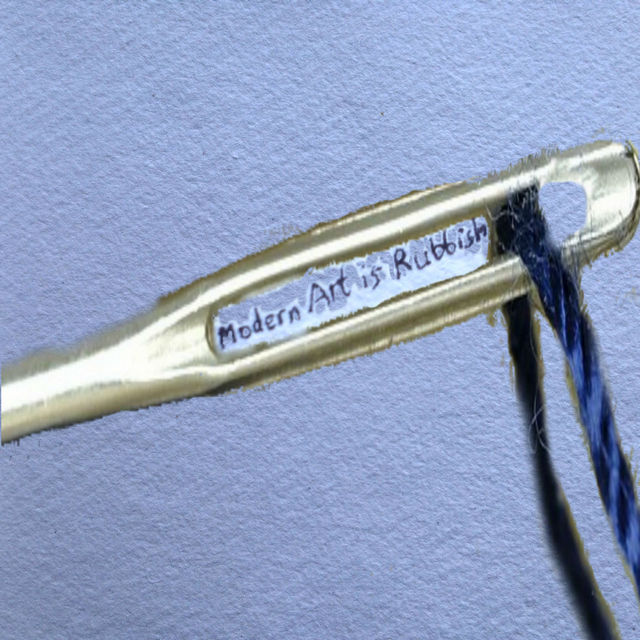 Podcast: Play in new window | Download
Subscribe: Apple Podcasts | RSS
Mini Tiny Teeny Art and Masters Degree Review – MAIR12
This week we celebrate the world of tiny and mini, featuring a Tudor Miniaturist, a baby sculpture in a hair, and mini adults reviewing mini works. Plus a mini-review of a Masters Degree show.
Brighton M A Mini Review
Recently we went to the Brighton UK Masters degree show. In this episode, we talk briefly about some of our highlights.
Judith Ricketts
A programmer digital and installation artist
One-piece featured a film giving information (in this case about statistics about slavery). There is a camera that checks to see you are watching the film. If you look away, the video stops until you start watching it again. It is a clever way to get you to engage with the subject, requiring you to focus on the information on the screen.
In another piece, the viewer is confronted with 2 large sheets of paper hung and lit like they are ancient religious scrolls. They have faint writing on them and look quite beautiful. It is only when you investigate the writing further that you see they are lists of numbers that relate to the slave trade. It is a very moving and emotional piece.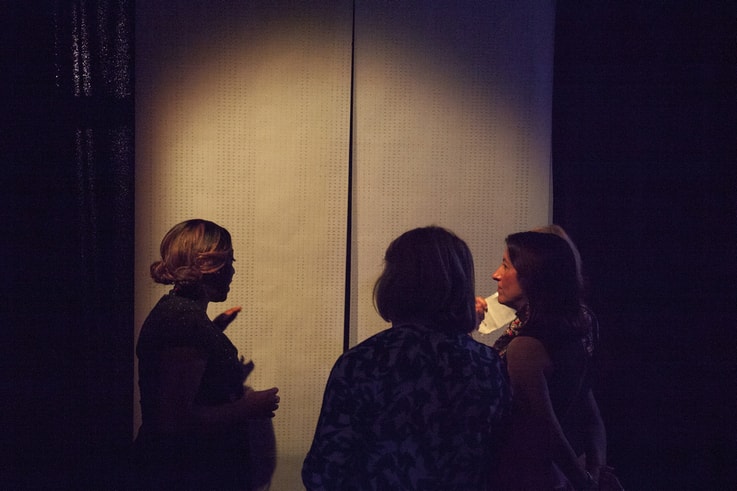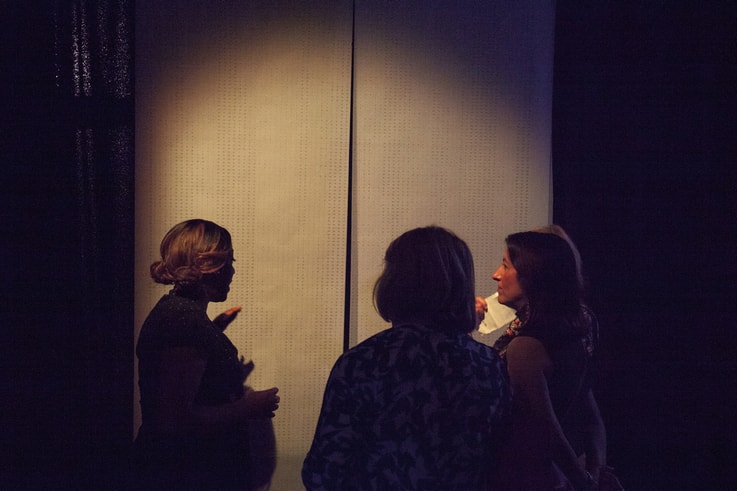 Instagram : @LovesPictures_
Vimeo: Loves Pictures
Website: LovesPictures.com
Lucy Delano
This work by this artist could be described at entertaining, thoughtful and playful, but with some serious art history knowledge behind it.
One-piece was a readymade chessboard. Called My Fathers knitted chessboard. In fact, made by the artist's father, this piece references  Duchamp.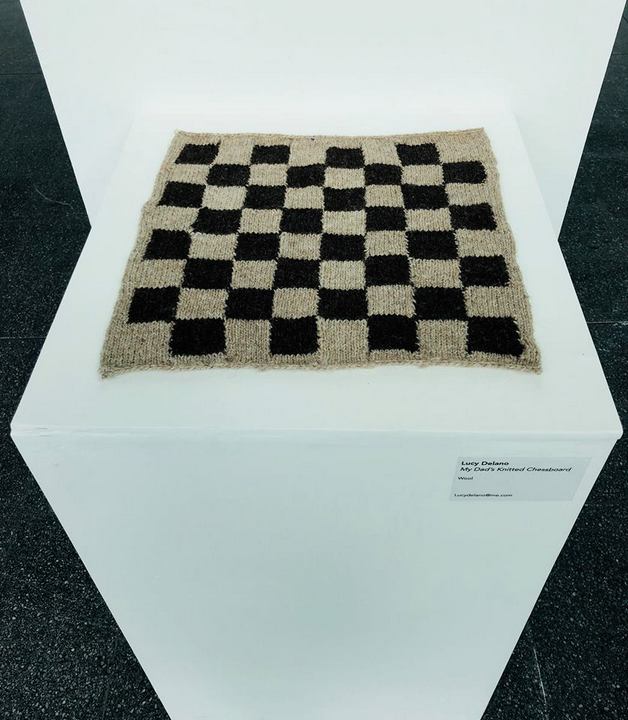 Email: Lucydelano@me.com
Sally Bourner
This artist's work was a big cocoon-like weaved form made of willow. Viewers are invited to add pieces of fabric.  The research involved the local community working with fabrics and creating works. It is a piece about community, sharing and the state of being in flow (in the moment).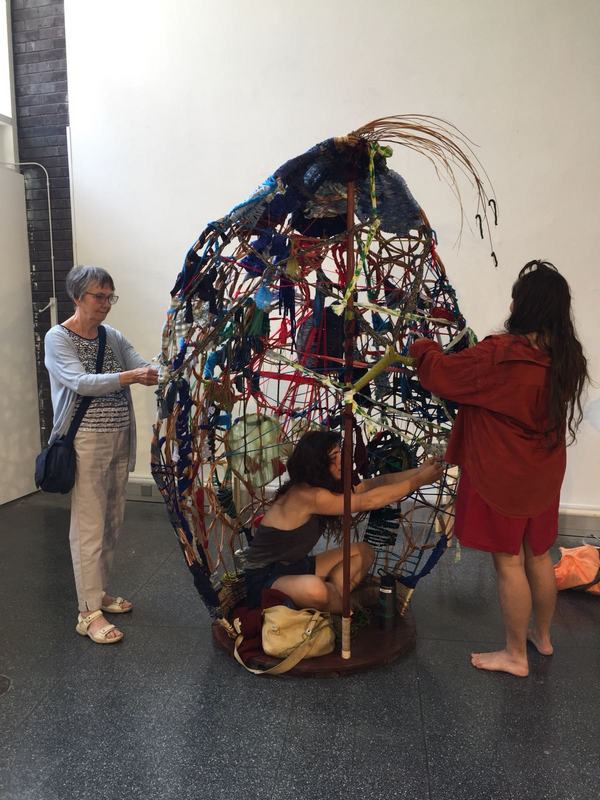 Webpage: Fabrica Gallery Textile Flow 
Shelley Morrow
An interesting artist who's work is delicate and fluid, the work involves a lot of life drawing, fabric and threads.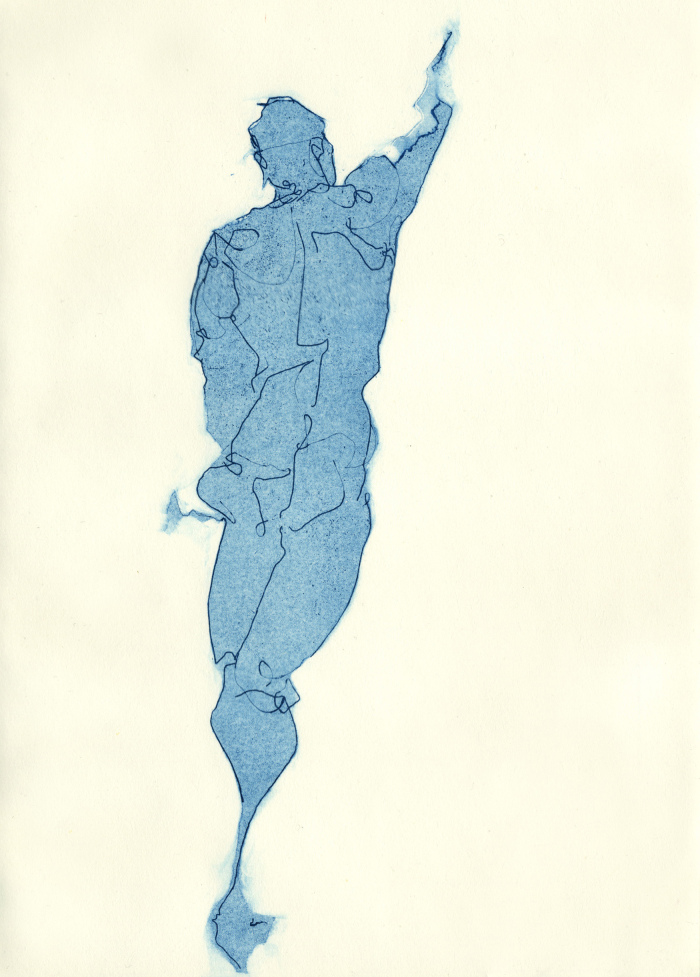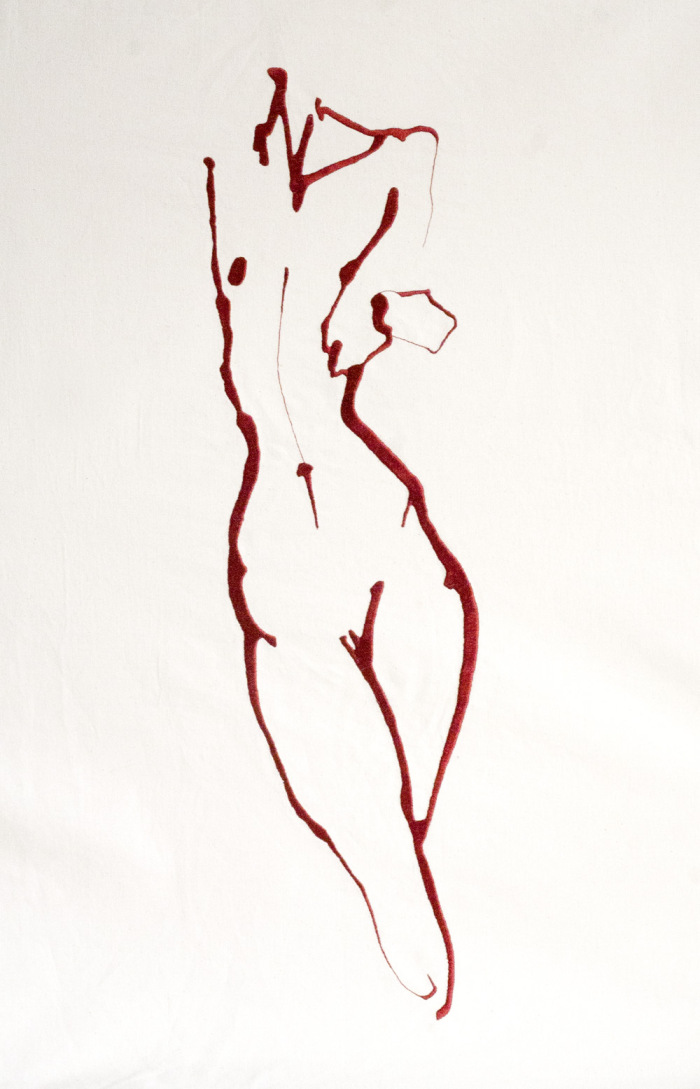 Website: ShelleyMorrow.com
The Mini Artists
Willard Wigan
Born 1957
Willard Wigan is an artist who sculpts tiny works. They are so small they fit on the head of a pin or in the eye of a needle. He makes tiny tools such as, tweezers made from eyelashes, a cutting tool that has diamond dust at the end of a hypodermic needle. To sculpt works he has to hold his breath and work in between heartbeats.
One of his works is a carpet fibre baby that fits inside a human hair. It is the Smallest hand made sculpture in the world.
Another work is the of the "Mad Hatters Tea party" a scene from "Alice in Wonderland". This sculpture was placed  in the eye of a needle
Ava and Nella Artists Review
The miniature artist duo talked with the show about the artists below.
Isaac Cordal
Born 1974
Isaac Cordal is a Spanish sculptor and photographer that makes little sculptures out of cement. The tiny sculptures depict the grey stressful routine driven modern life a lot of us experience. He calls these collective works Cement Eclipses.
The first mentioned Cement Eclipse work is a very surreal image. It contains several tiny bald men in grey suits, they are semi-submerged in a deep puddle in-front of a pavement's curb.  They are all looking concerned, as one man lifts off the top off one man's head, to reveal nothing inside.
In another work, a man in a suit is lying face down on the ground. It looks like he has been flushed with the rainwater out of an overflow pipe.
In a third work, a balding man in a grey suit sits down cross-legged, with his dog beside him.
In final discussed work Waiting for Climate Change a man in a suit is floating in a pool with a red rubber ring around his waist. Also, 2 other men struggle to just keep there head above water. Watching this scene are nesting and swimming ducks.
A video feature his works…..
Slinkachu
Born 1979
British photographer. He makes tiny scenes with little people, inserted into outdoor urban settings.
In the first work discussed, a trainer lies on its side in a puddle, it's lace has been arranged to look like a fluorescent green sea serpent. The small figure of a ship's captain and a boy are floating on a bottle top nearby, whilst they look on.
The second work features 2 tiny men carrying a cheesy crisp called "wot-sits"
The third discussed work features a hooded teenager a sits on top of a bottle top looking a toddler in a pram, what looks to be his young partner and child's mother in a pink jacket is standing to look at the child also.
Here is an interview with Slinkachu on his process
Nicolas Hilliard
Born around 1547 and died in 1619
Nicolas Hilliard Was a  Miniaturist who painted many noble and well know people from the Tudor period. He painted his works mostly in watercolour onto Velum which at the time was made from prepared animal skin.  The finished works were then stuck onto playing cards to strengthen them.
His father was a goldsmith and he apprenticed as one too. After his apprenticeship, he was appointed the goldsmith and official miniaturist to Queen Elizabeth I. He went on to paint various nobles and several portraits of the queen, up to 16 survive to this day
Elizabeth would give away these portraits without setting so the recipient would have to pay a lot of money just to get one made.
Here is the link to his 1572 Queen Elizabeth the First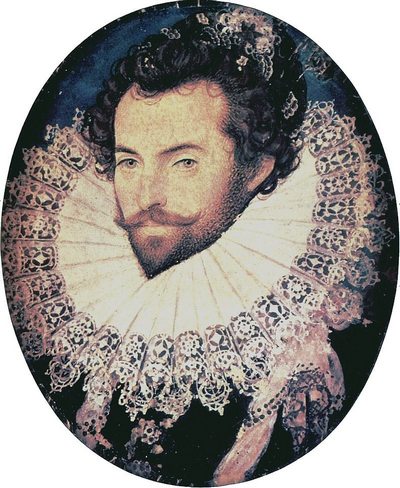 Please follow and like us: