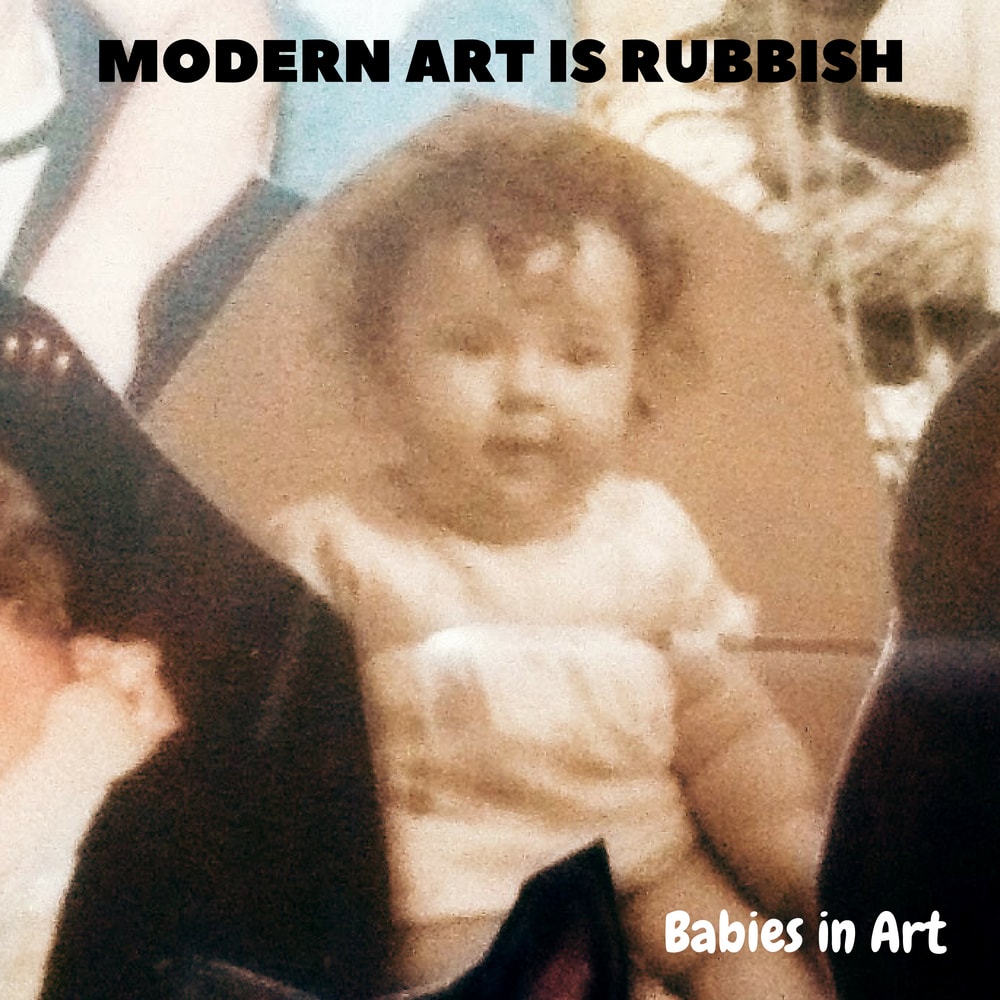 Podcast: Play in new window | Download
Subscribe: RSS
Babies in Art Special
Babies in Art? This episode will feature talk of Giant Babies,  Medieval Man Babies, Military Babies, Pregnancy suits and a Baby being born as Art. All links to the images discussed are at the bottom of the episode page. Thanks for listening modernartisrubbish.com
Medieval Baby Men
Today realistic baby depictions are everywhere. But it was not always like this. There was a time when babies were painted as ugly baby men.
The Expulsion of the Money-Changers circa 1480 – 1500 Attributed to: Master of the Kress Epiphany, Dutch
Jesus has gone into the future and entered into a Gothic-style church. He is angry at the commerce he sees all around him.  The church is filled with concerned merchants fearful of the whip that Jesus is brandishing. Jesus with his free hand is knocking over a table of money. There is a crafty blonde man-baby is making a grab for some flying cash. A Ram looks suggestively at the viewer. There is also a banking baby that is raising his fist in anger at Jesus's attack on his trading floor.  He looks like the lovechild of Chucky from the Childs Play movie and Chuckie from the Rugrats cartoon. 
Madonna of the poppy 
Painted in 1333 in Italy, Paolo Veneziano's  
An Andrew Lloyd Webber baby Jesus baby looks affectionately at the Virgin Mary whilst reaching for her poppy.
Why do the babies look so strange?
Babies were viewed as little adults in transition. Medieval Churches commissioned most paintings at the time, so most babies depictions were of Jesus. Jesus was believed to be born perfect by them, so would have been expressed as a little man. In Medieval times childhood was seen as a mere transition  to be becoming a young adult around aged 7
Marc Quinn
 b.1964
Quinn is a British contemporary artist who creates sculpture, installation and paintings. His work questions "What it is to be human in the world today". His themes include the body genetics and identity. 
Planet 2008
Planet 2008 is a giant  4 metres high and 9 metres long, white coloured bronze sculpture of his son. It seems to be floating above the ground. Quinn was quoted as saying "To me, 'Planet' is a paradox – hugely heavy, yet the bronze appears weightless; overwhelmingly big, yet also an image of vulnerability. It is both a reflection of ourselves and the earth upon which we live."
Below is a video of the installation of the Sculpture outside the Royal Academy in London
https://www.youtube.com/watch?v=ehtlfmJEx3g
Ron Mueck
b. 1958
Ron Mueck used to be a puppet and model maker who worked with Jim Henson.
He makes Extremely realistic sculptures of people, that are executed with incredible detail (showing veins and hairs)
A Girl
'A Girl' more than 16 feet long newborn baby, with umbilical cord and smears of blood and other birth matter. Scrunched up face.
Johnson Tsang
Born in Hong Kong in 1960
My works depicting babies were expressing my point of view to the world through the eyes of a child—my inner child." — Johnson Tsang in beinart.or
He served in the police force and saw a lot like the tactical unit, emergency unit, special duty squad, vice (anti-drug squad), and traffic accident investigation team and having seen the dark side of humanity
In 2005, I started teaching kids: I told my inner self to go back to the age of a child. Then I became one of them, enjoying the classes. My inner child kept visiting me from time to time, especially when I created my own art. I believe that sometimes I wasn't the one creating my works. My works depicting babies were expressing my point of view to the world through the eyes of a child—my inner child.
Security Summit" – Porcelain sculptures by Johnson Tsang
Porcelain and toy soldiers / Throwing, altering and modelling / L90 W90 H23cm / Oct 2014   who did it again
Sidonie Bergot 
Born 1972
French Theatre actress Work features Dreamlike, realism, questions around embodiment, imposition and escape from the human body as a functioning organism. Uses latex and resin to make lifelike '"Suits of skin, ready to support" that can be worn. One is a bra with a baby attached, another is a woman's torso with a porthole revealing a baby in the womb, or creating a window for the baby to see out of. Also, punchbag in which punchbag is a globe of the world and a newborn baby is curled up on top. A lot of her commentary on her work and she talks about an escape and kind of wild release – like an animalistic howling (she's quite poetic with her words!).
Punching ball
When the Earth is at stake, the only being who has the power to defend it is a newborn, strong in innocence, virgin of all but Life.
When planet Earth is in danger, it's a newborn child, a life of everything but life.
Marni Kotak 
Born 1974
Was influenced by various performance artists including Chris Burden, Marina Abramovic
Her early works were re-enactments of events from her life as art, and then in 2005, she decided to present events that as they actually happen in her life.  Her audiences are invited to view and be a part of this real experience.
The Birth of Baby X 2011
The artist gave birth to her child as art. The event took place in the Microscope Gallery in Brooklyn New York. The gallery was set up to resemble a home-birth centre which included, a shower with curtain, a birthing pool, and two ten-foot trophies one dedicated to Baby X for being born, and the other for Kotak for giving birth. The gallery notified people on a mailing list as to when the baby was being born. 2 security guards kept the press and uninvited guests away. There was also a midwife present to assist with the birth.
Postpartum Depression 2012
Kotak re-enacted her experience with Postpartum Depression. In a 6 hour performance. Kotak lay on a bed surrounded by medical images. She used a breast pump. For the performance, she was separated from Ajax. Throughout Kotak read, and wrote in a  journal about her child making her life better.
Singin' Rain: Ajax's Second Birthday Party (2013)
For Ajax's Second Birthday Party the public were invited to the party as art. For "Singin' Rain…", there was a rain machine and umbrellas were given out. The event also featured live jazz, instruments for others to join in, and a ball pit for toddlers.
Her current work is called raising baby x she is raising her baby as a work of art.
Links
Medieval Babies
The Expulsion of the Money-Changers
Marc Quinn 
Planet 2008 (Giant Sculpture floating Baby)
Alison Lapper Pregnant (4th Plinth Trafalgar Square London)
Ron Mueck
Johnson Tsang
Johnson Tsang Website (Scroll down a bit for more Baby Sculptures)
Sidonie Bergot
Marni Kotak
You can find images and more info about the Birth of Baby x and other works here
An interesting Interview with the artist in the VillageVoice.com
A little note from us
A lot of people like to subscribe via Itunes and if you could leave a Five Star review that would be fantastic.  You can join in the conversation with us on Facebook. If you have any questions or suggestions for the show  Our email is info@modernartisrubbish.com   Thanks for taking the time to check out the site.
Please follow and like us: