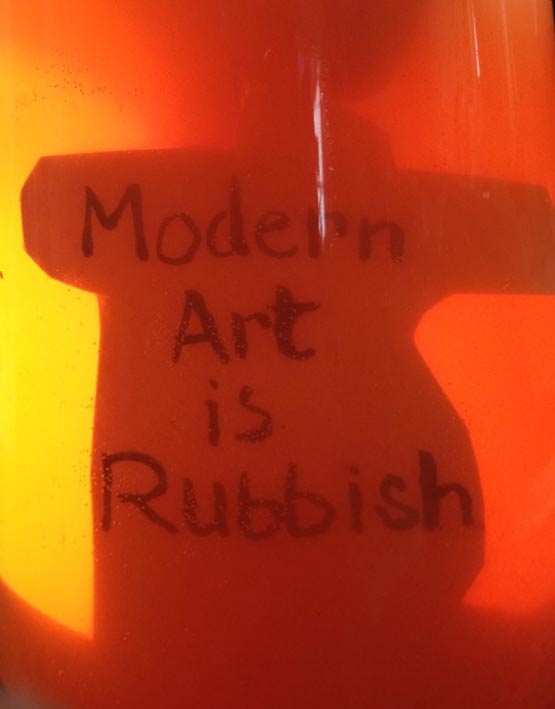 Podcast: Play in new window | Download
Subscribe: Apple Podcasts | Android | RSS
Controversy
In this episode, we take you on a short journey of some Artists whose work courted controversy. From innocent restorations to deliberately provocative works. They all had strong reactions, from the positive to the extreme, even ending up with an artist being assaulted. Thanks for downloading and please remember to subscribe ModernArtIsRubbish.com
The Head of Christ 2015
We start off light as this work did not really do much than provoke a storm of positivity..
The More famous Restoration
The most famous bodged restoration was performed on a Fresco by Elías García Martínez. The church located in the Spanish town of Borja was struggling to raise funds, but now, due to the fresco's infamy, it is attracting visitors from around the world.  You can get more info and pictures from this Artnet Article
Who's the Father?
There is a statue of Mary and the baby Jesus that stands outside a Catholic church in downtown Sudbury in Canada. Vandals had taken a liking to damaging it, and eventually, they knocked the head of Jesus completely off and stole it. The church looked into purchasing a replacement but it would cost over $7000.  So a local artist Heather Wise created a  rather primitive looking terracotta  head for Jesus  (the statue was white) "To do a statue of baby Jesus for a church is like an honour of my entire art career." She was quoted in  Sudbury.com. You can see a better picture of the statue here. The original restored head has now been put back in place, however, it seems to have a pretty bad nose job, as you can see in the picture here on the website cbc.ca
Myra 1995
Painted by Marcus Harvey, Myra is a  9 by 11 feet painting. It features the image of the notorious child murderer Myra Hindley, who with her boyfriend abducted and murdered several children in the 1960s. The picture was made using casts of a child's hand to build up a  black, white and grey image. It was displayed at an exhibition called Sensation
It caused a big stir in the press. It was attacked twice, a man kicked the painting from the wall and splattered it with red and blue ink, and another man then threw an egg. As they were led to a police van one protester shouted to bewildered onlookers: "No one should be allowed to make money or fame out of the death of little children."
Marcus Harvey now produces paintings and sculptures such as, The Lord High Admiral  2008, which is a bronze sculpture of Winston Churchill, with what looks like moppy Mohican haircut. In Clown With Skull 2012, Harvey painted a clown and skull viewed through frosted glass. You can find more info and pictures of his works on the Artnet page.
Tree (installation) 2014
Paul Mccarthy born August 4, 1945
Made by Paul McCarthy (born 1945) Tree was a 79ft (24 metres high) Inflatable sculpture. It was installed outside the Place Vendome in Paris October 2014. Officially it was described as a Christmas Tree however, it had a very distinct appearance of a Buttplug.
It provoked such a reaction from some members of the public that the artist was actually accosted by a man, whilst he was completing the installation of the sculpture. The sculpture also had its cords cut by another protestor, causing the inflatable to deflate.
One shop owner mentioned that sales of Buttplugs increased by nearly 2000% since the installation of the sculpture. "People may be offended if they want to refer to [it as a] plug, but, for me, it is more of an abstraction." Mcarthy was quoted as saying in an Artnet news article.
Here is a good source of Mcarthy images on the Hauser and Wirth site
Paul Mccarthy as well as sculpture, has produced video works, he has used his body as a paintbrush, as a canvas and has used his bodily fluids or food in his works. He makes a lot of references to Disney and other American topics in his work. He is very anti-mass media and consumer culture.
Here is a preview of one of his video works called Painter.
Other Andreas Serrano works range from killer clowns to burn victims and bodies in a morgue.
Tilted Arc 1981
Created by the Artist Richard Serra, Tilted Arc is a wall of steel (12 feet high and 120 feet long)  it curves in a subtle arc over its whole length it is leaning slightly forward.
It was commissioned by the United States General Services Administration and was installed on a plaza outside a federal government building. Some office workers disliked the work so much, that they raised a petition with over 1300 signatures to get rid of the sculpture.   The General Services Administration argued that it was a small percentage of the staff that were complaining, so nothing was done in response. In 1984 a new head was appointed as a regional administrator, William Diamond, he was very anti the work, he suggested the site-specific work could be moved.
Diamond arranged for a short public hearing. Richard Serra spoke ou,t saying that the work was site-specific so could not be moved elsewhere.  About 120 people spoke in favour of retaining the piece and 58 came forward against it. The panel ruled that the work should be moved, Even though 4000 people also signed a petition to keep it.
Richard Serra later sued the GSA as he was promised it would a be permanent work, but the court ruled in the GSA's favour, stating that, as the GSA  owned they work they could do whatever they wanted with it.
Below is a video that shows the trial relating to the Serra  Trial.
Fulcrum is a large sculpture by American artist Richard Serra installed in 1987 near the western entrance to Liverpool Street station
Please follow and like us: