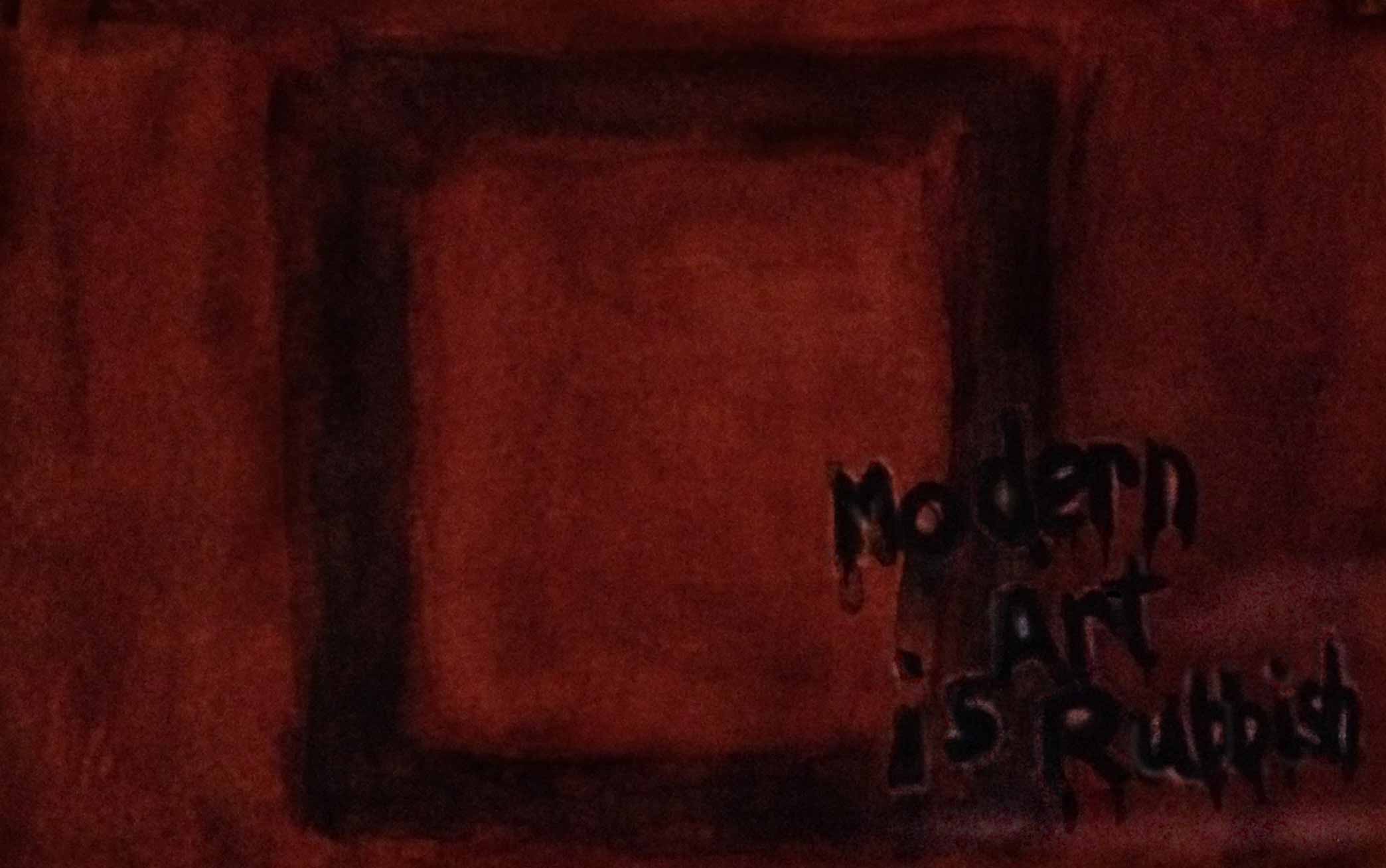 Podcast: Play in new window | Download
Subscribe: Apple Podcasts | Android | RSS
There have been quite a few artists who have vandalised other works and then called it art. We will be taking you on a journey of pee-pee, spray painting, fire and accidentally ripping canvasses.
 Please remember to subscribe and thanks for downloading. More info at ModernArtisRubbish.com
Art Stories we came across.
Jeff Koons Augmented Sculptures.
Jeff Koons has launched an augmented reality app in conjunction with Snapchat. It will enable you to see a Koons' sculpture virtually installed into the scene. In response, the artist Sebastian Errazuriz has launched an app that will place a virtually vandalised Koon sculpture in the same location.
Artist setting alight to a French bank.
Petr Pavlensky the Russian artist, who got asylum in France, set alight to a French Bank in Paris and was arrested and charged. "The Banque de France has taken the place of the Bastille, and bankers have taken the place of monarchs." stated the artist.
Steve Wynn once put his arm through a Picasso
In 2006 Steve Wynn accidentally put his elbow through a Picasso painting called  "Le Reve" causing millions of pounds worth of damage. 
The Main Show
Black Sheep
In 1994  artist Mark Bridger damaged an artwork by Damien Hirst called "Away from the Flock" it was a stuffed lamb was placed in a tank of formaldehyde. He poured black into the tank and renamed the work  "Black Sheep". Bridger was arrested and appeared at Bow Street Magistrate's Court. He felt his work was an artistic act and was a "positive contribution" to the work. Bridger was found guilty of criminal damage and received a conditional discharge.
Vladamir Umanets and the Rothko
Oct 2012 Umanets walked into the Tate Modern gallery, he picked a Mark Rothko painting and later stated that it could have been any work he chose to deface.
In the corner of the painting, he wrote a potential piece of yellowism. The damage went through several layers of paint. 
Quoted in the Guardian Umanets stated "I believe that if someone restores the [Rothko] piece and removes my signature the value of the piece would be lower but after a few years the value will go higher because of what I did"  As a result of the attack, It took years of restoration costing approx $280,000 (£200,000) to repair. Umanets was sentenced to 2 years in prison for vandalism.
Tony Shafrazi  and Guernica
Guernica was painted by Pablo Picasso in response to the bombing of the Spanish town of Guernica in 1937. It is a big painting, over 7 and half metres and long 3 metres high.
Tony Shafrazi (an artist) in 1974, walked into the Museum of Modern Art in New York and wrote across the painting in foot-high letters "Kill Lies All". Eventually, he was caught by a guard, and he shouted "call the curator I am an artist"
The actual damage to the painting wasn't that bad,  the paint was actually quite easily removed because the canvas was so heavily varnished.
The painting is now protected by armed guards and is located in Madrid.
For this act of Vandalism Shafrazi got 5 years probation. What might have helped him was that the judge asked him would you do it again? He replied, "No I did it already, I've other things to do"….
Pee on the Duchamp
The Marcel Duchamp urinal art piece "Fountain" has been a very popular target for artists throughout the years. Several authorised copies are in circulation, they have been attacked many times.
Brian Eno
In 1990 he urinated on the Duchamp artwork by feeding a pre-filled urine tube through a gap in the protective casing.
Pierrie Pinoncelli
In 1993 the French artist urinated into the piece while it was on display in Nimes, France, and at a 2006 exhibition in Paris, he attacked the work with a hammer.
Mad for real
In May 2000, Cai Yuan and Jian Jun Xi,  known as "Mad for Real" urinated on the artworks protective perspex casing.
Björn Kjelltoft
May 1999 Björn Kjelltoft an art student Urinated on a replica of the fountain. He wanted to have a dialogue with Duchamp
Useful Links
Jeff Koons Augmented reality sculpture story
Guardian article on Petr Pavelenky
Sebastian Errazuriz digital vandalism Story
"La Reve" the Painting Steve Wynn damaged
Image of Mark Bridger So-called artwork "Black Sheep" 
Damien Hirst's "Away from the Flock"
The Yellowism website
Guernica vandalised by Tony Shafrazi
Link to Modern Art is Rubbish Duchamp Episode  
An Interesting Brian Eno Video he starts talking about the toilet from 17 mins 12 secs
Please follow and like us: