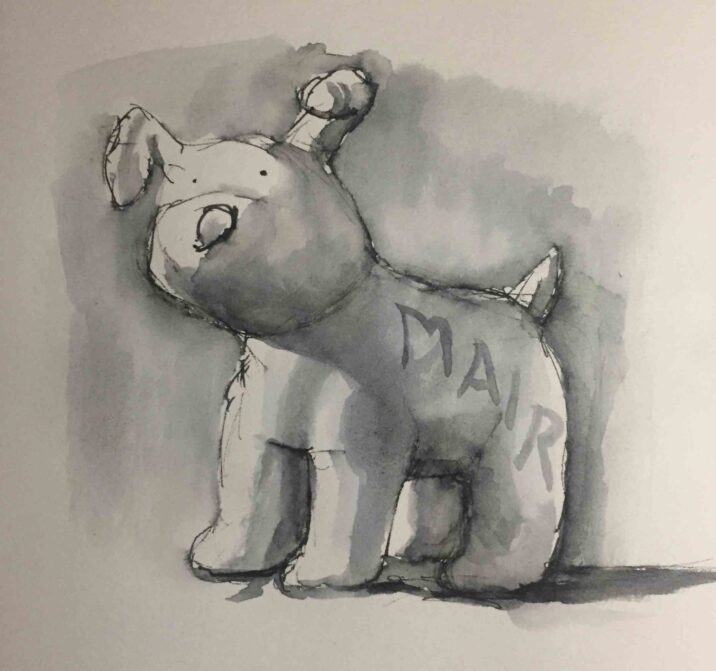 Podcast: Play in new window | Download
Subscribe: RSS
In this episode we talk about dodgy Banksy's, and the team behind the snow dogs are putting on another show.
Dodgy Banksy
Is graffiti the property of the public or the individual?
There is plenty of graffiti nobody wants to claim but that all changes when it is by Banksy.
An unidentified man went on The Antiques Roadshow with a rat stencil on a steel plate, which he prised from a seaside wall in Brighton circa 2004.
Possibly expecting a head pat for his magpie ways, Unidentified Man got a gentle telling-off from specialist Rupert Mass and was fully roasted after the segment appeared on Banksy's Pest Control website.
Pest Control allows for potential owners of Banksy's work to apply for a certificate of authenticity. Unidentified man told Rupert Mass he did this and was turned down.
With the link on the Pest Control website were the words "The Antiques Roadshow sums it up rather well."
Snow Dog Fun
Wild in Art are a commercial organization that create art events across the globe. In MAIRs home city of Brighton we had Snowdogs in 2016. The Raymond Briggs Snowdog character was in 43 different venues across the city, decorated by different artists.
The nine week sculpture trail culminated in an auction which raised over 310,00 for chosen charity The Martlets Hospice.
Wild in Art are currently running the Covid safe cultural fix that is 50 Windows of Creativity. Galleries, shops and other spaces around Manchester City Centre are showcasing many forms of art for locals to enjoy. A trail map is available online. The event culminates in an auction of featured artworks. Pieces can also be purchased directly from the artists.
Mark Kennedy
Mark Kennedy creates mosaics depicting people such as Blondie, Tommy Cooper, Bob Marley and Madonna. He also recreates iconic album covers in mosaic form, among which are Joy Division's Unknown Pleasures and Screamadelica by Primal Scream.
A lifelong Manchester city fan, his first mosaic was the club badge. Kennedy recently created a mosaic of City player Yaya Toure. His work has a playful , Pop Art feel and can be seen around the city of Manchester.
Ric Facchin
Lockdown may not seem the obvious time to start a building company, but local man Ric Facchin established a company with a difference. Manchester Builds is Ric making model replicas of Manchester shop fronts in his Whitefield kitchen.
"I like the weathered look mixed in with years of city centre grime and rot and then topped off with graffiti or street art of which there is an abundance in the NQ at the moment."
HIs attention to detail is incredible, with models featuring tiny bin nags and fire alarms. Facchin makes the fire alarm casing from used paracetamol packets, saying he finds it " surreal" the amount of stuff around the house that can be used.
The replicas are so realistic it is hard to tell them apathy from the actual shop fronts. Pictured here is the Shudehill Book centre, with the actual building on the right, or is it?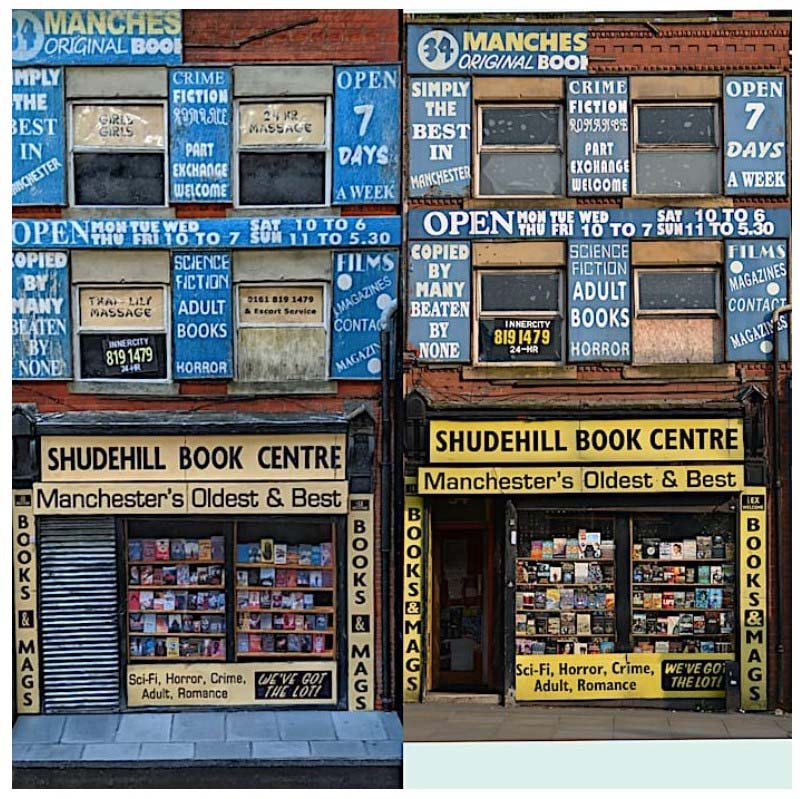 Unclothed Controversy
Artist Maggi Hambling is making an interesting claim about her controversial sculpture. Hambling has presented writer and feminist icon Mary Wollstonecraft as a small, naked figure emerging from a mixture of female forms that appear swirling and liquid.
Reaction was swift and unfavourable, with writer Imogen Hermes Gower saying "Nameless, nude and conventionally attractive is the only way women have ever been acceptable in public sculpture."
The missed point, according to Hambling, is that the statue is for Wollstonecraft and not of her:"a sculpture about now, in her spirit." Hambling goes on to say that clothes define people, so she chose to represent Wollstonecraft undefined in that way.
Twitter users have responded by sharing images that depict historical women in a way they prefer: clothed. One example is the sculpture of musician Jenny LInd in Stockholm. Writer and self-confessed Twitter addict Caitlin Moran commented: "the statues of women other women love best show them looking real, Doing something, wearing clothes and radiating power, intellect and joy."
The statue stands in Newington Green, North London.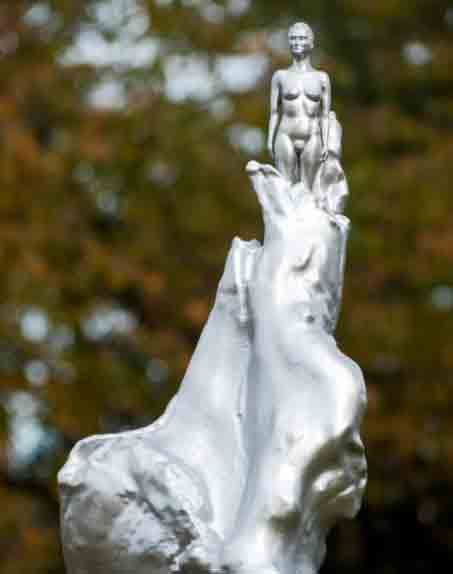 New Tom Song
Toms got a new song out and you can hear it below
Please follow and like us: