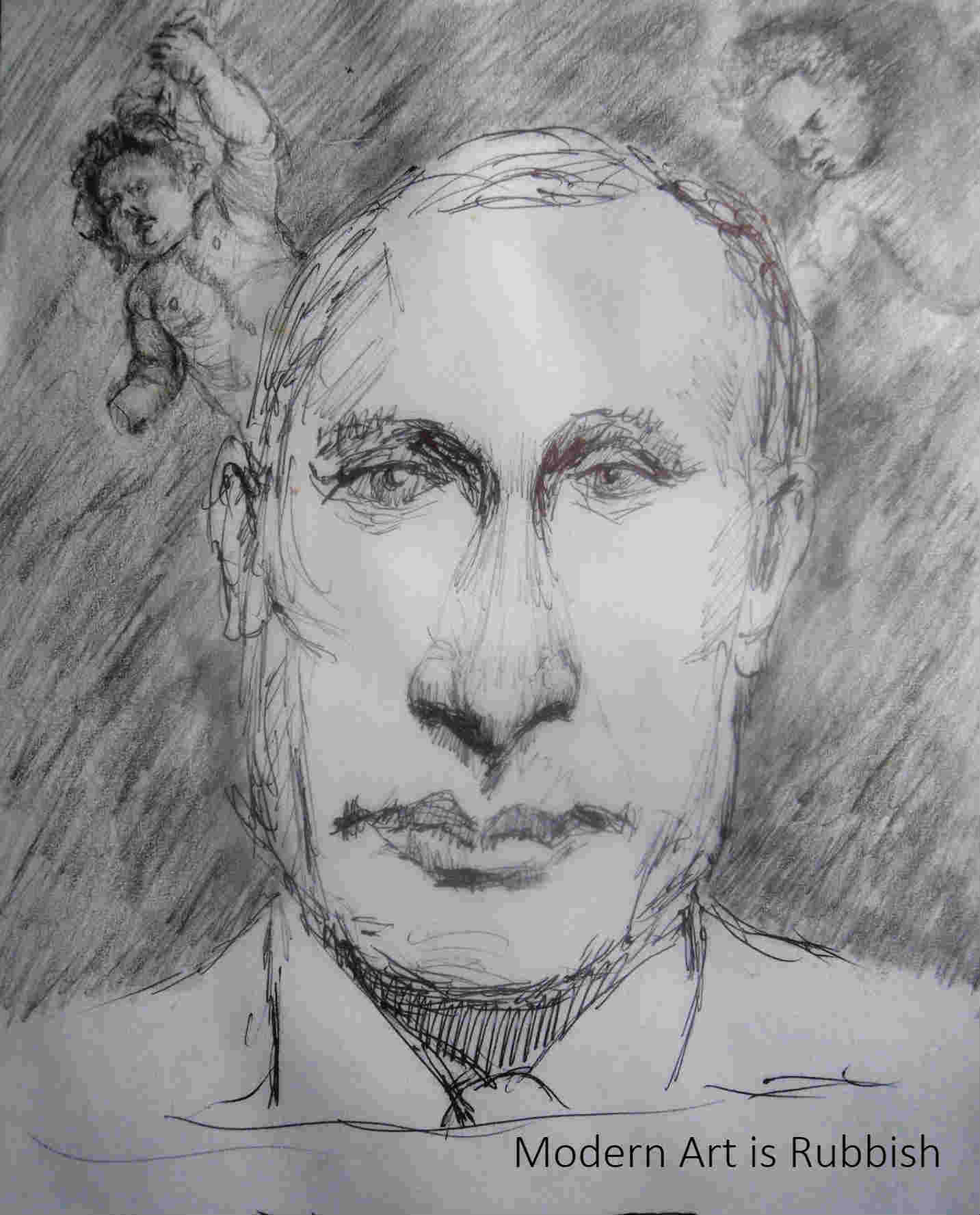 Podcast: Play in new window | Download
Subscribe: Apple Podcasts | Android | RSS
Painterly Politicians
In this episode, we will take you on a journey of painterly politicians. Looking at works with a fascist flare, and even a bungling blondes brushwork.
When Politicians get arty Boris Johnson
Boris Johnson is a Bungling Blonde British Foreign Secretary famous for his gaffs, such as getting stuck on zip-wire or talking about drink in a Sikh temple. whilst some might consider him a waste of time as a politician, it actually looks as though he would have made an excellent artist. At the age of just 14, he produced a very accomplished and interesting self-portrait. He takes after his mother Charlotte Johnson who is a very talented painter, in this respect. You can see the image of Boris Johnson's mother posing with his self-portrait here.
Putin
I could not find much information on Putin painting, but I did come across one example, executed in oil pastels in 2009, it sold for over £750,000.00 at a charity auction.   It is a boldly painted image of a window and curtains. The bright yellow of the window frame draws the eye to the starry night sky beyond.  It is a very economical painting, with just a few lines to indicate the curtains. It would seem some artists, doubted that he actually painted it. "A leader who demands that the world play by our rules could hardly have painted such a picture," said one painter, who asked to remain anonymous for his own security. "It looks as if it was painted by a sentimental woman. It is too sweet; you can feel it in the brushwork and the palette. The core theme is feminine too." he was quoted as saying in the Telegraph newspaper.
Francisco Franco
General Francisco Franco was a military dictator and associate of Hitler. He came to power in 1936 in died 1975.
Franco was advised to take up painting as a way to unwind from being the Fascist Dictator of Spain. They are very accomplished paintings, some are just straight portraits, but some of them are definitely Fascist subject matter.  One of them depicts, 5 dogs locked in a fight to death with a large bear.  Another shows a bird of prey swooping down to steal a bird that lays dead beside other birds and a hunters rifle. You can see Franco's Bear hunt here and here the link to The Bird Hunt Thief here
Churchill
Churchill created over 500 paintings and one sculpture in his lifetime, it was not until in his 40s that he started painting.
He eventually became a very accomplished painter. It must have helped him greatly having first-rate instruction from his friends, Walter Sickert a famous London based artist and the portrait artist Sir John Lavery.
Churchill was the First Lord of the Admiralty but was forced to resign being blamed for two disastrous World War one campaigns. He was demoted to the junior role of the Duke of Lancaster (which administers in main, the commercial, agricultural and residential properties.)  He must have been left feeling very impotent, being in government, being aware of all the issues with World War One and no longer being able to act on them. This combined with a lot more free time did not help his depression. Painting and wall-building became a key way for him to relax.
He took up painting in 1915 when his sister in law was staying with him. She was painting with watercolours, she encouraged him to have a go and he was hooked from that moment on.
His first exhibition was when his friend Sir John Lavery entered his portrait into the 1919 Royal Society of portrait painters. In 1921 he had a series of 6 paintings shown at the Galerie Druet,   he went under the name of pseudonym of Charles Morin, many of them sold.
In 1948 in entered 2 paintings into Royal Academy Summer Exhibition, under the pseudonym 'Mr David Winter'.  When speaking about his landscapes, Churchill was said to have remarked, 'Well, I don't think it's bad considering I only spent seven hours on it."
His work is now quite popular. In 2013 His painting The Goldfish Pool at Chartwell went for nearly 1.8 million pounds. It is a very accomplished impressionistic oil painting of pond with the leaves of trees in the background and goldfish in the foreground.  Had Churchill been a full-time painter, he possibly could have been heralded as one of the all-time British greats…. Another painting by Churchill Tapestries at Blenheim executed circa 1930  December 2014  sold for £1,082,500
Churchill continued to paint for the rest of his life
Hitler
Hitler's work whilst technically not bad is very plain. This makes Hitler quite easy to forge also as he has no real discernible style. He spent most of his artistic development copying the style of others never really trying to develop his own.
Hitler as a young man tried to get into the Fine Arts Academy in Vienna twice, once in 1907 and 1908, but was rejected. He actually passed the first portion of of the process which was a drawing exam. But failed when they looked at his portfolio. Someone at the School believed that Hitler had some talent, they actually suggested that he take up architecture, but he didn't want to go back to school to get the relevant qualifications.
So from 1908 to 1913, Hitler struggled in poverty scraping a living painting postcard-sized views of Vienna and doing other odd jobs. Many people who purchased his work were actually  Jewish.
One Hitler artwork is  Vienna State Opera House drawn in 1912. This is a picture that seems to be competently drawn with quite good use of perspective, but is also very bland.
Hitler actually did drawings of Dwarfs from  Disney's Snow White (film released in 1937) and one of Disney's Pinocchio (released in 1940). A director of a museum in Norway claimed they were by Hitler. Hitler was a fan of Snow white and was known to have a copy.  If they are real, then it is pretty strange to think he might have been drawing   Bashful and doc in the build-up to world war 2 and possibly drawing Pinocchio whilst preparing to invade Denmark and Norway.
In 2015 at auction a painting of a Bavarian Castle went for 71,500 apparently there is still no shortage of buyers.
As a side note, the Bavarian state archive accepts any works by Hitler and never pays for them, they wish to take them out of circulation.
The British Artists Jake and Dinos Chapman
The British artists created an artwork in which they took 13 Hitler drawings and altered them. They did this by drawing things such as rainbows onto them. The doctored 2008 artworks were titled if "Hitler had been a Hippy how happy would we be."
They were in particular interested that with Hitler's work you can see no indication of the latent evil he was to unleash on the world. They suggest that his work is more bland than devoid of emotion.    They chose motifs like inoffensive rainbows as it is one of the most transgressive things you could do on such a disturbing object. Also, this is something that Hitler would have hated.
This work provoked various different reactions. Some people found this to be a good idea. Some people felt that the works should not be drawn on and preserved as historical documents, or they should be destroyed, they even received death threats from Neo-Nazis.
Here is the interview with Jake and Dino's Chapman about the work.
https://www.youtube.com/watch?v=WBvfgJWC0WA
Please follow and like us: