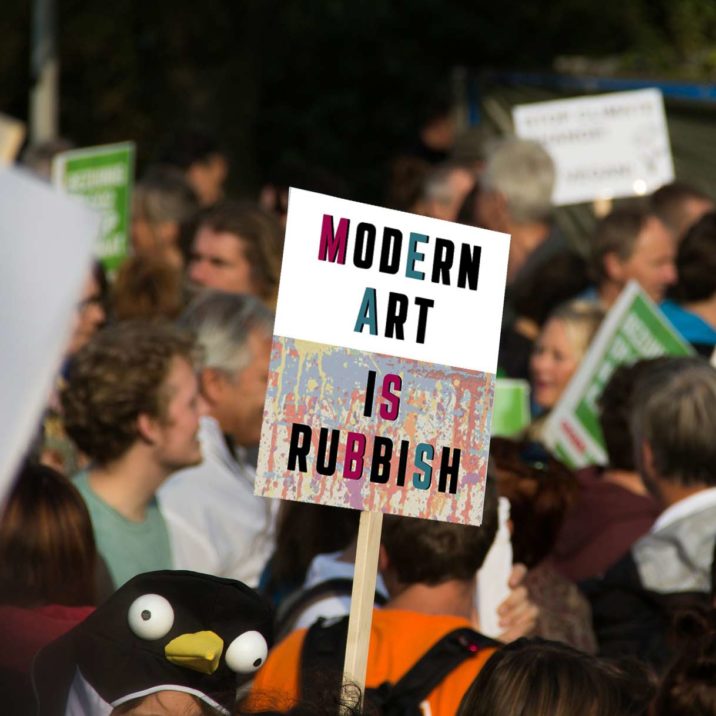 Podcast: Play in new window | Download
Subscribe: Apple Podcasts | Android | RSS
Art News Asphalt Accidents & Italian Art First MAIR36
In this short holiday episode we bring you 2 stories, one involving an Asphalt art Accident, and another about a curator who wants to set up his own satirical Art party!
Asphalt Art Accident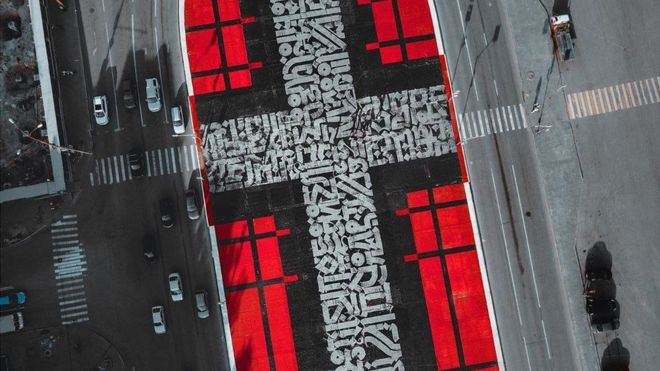 Image from Stefagraffia on Instagram
In  Yekaterinburg, Russia, a major piece of street art has been partially covered by asphalt not long after it was completed. The work is a giant white and black cross on a red background. The main white centre of the cross is comprised of quotes in calligraphy by the Russian artist Kazimir Malevich.
The 6686 sq meter work took 20 volunteers 3 days to complete. A few days after it's completion, a group of roadworkers turned up to repair the crossing covered by the graffiti. It perhaps did not occur to them that the work was meant to be there, and proceeded to pour asphalt onto the work. Eventually, the authorities stepped in to prevent any further damage. Luckily the area of damage was only about 10 – 15 square meters. There appears to have been some breakdown in communication, However, the mayor's office blamed the careless workers for the mistake. The work will be restored.
Italian Art First
In response to the rise of the far-right parties in Italy, Francesco Bonami who is a curator. Has formed a tongue in cheek Italian "Art First Party". The party is called Exageramos
Bonami was thinking about what would happen if the art world "What if the art world starts to go bonkers?" In the same way that politicians like Trump and Salvani have been so successful because as he explained have "because they have no shame" and just "bullshit or exaggerate."  His videos for EXAGERAMOS! Art party are on Instagram
It has the Slogan "Italian Art First"
Policies include: Activites include travelling around the country to look for illegal foreign sculpture remove them, catch the artists to sue them and put them in jail.   It will be forbidden to say any major Italian art such as Georgio Marandi is boring
"Curators, global and multi-cultured: the party is finished," Bonami said in a video posted this week.
Another law he proposes affects the Italian Art Bienalle. He states " I'm going to sign a decree that won't allow anybody to use the name 'biennale' outside Venice." All the international exhibitors will be made to pay back rent to Italy for use of the pavilions since 1895. "We are not a holiday place. The biennale is not a place where you just go and take your room," he says.
Another law he will only allow Italian artists to participate in the Bienalle. He "will forbid all the garbage contemporary art in galleries and museums." "We will put in nice little boxes all the shitty art that comes from abroad and we send it back to their country,"   This does appear to be undertaken as a bit of fun.
Please follow and like us: